Teufelsberg, an artificial hill constructed from the rubble of Berlin after the second world war, on the site of the Nazi military-technical school designed by Albert Speer. The hill is the highest point in Berlin and surroundings, the American and British forces constructed a spy station on this strategic location. The station was operated by the NSA during the cold war from 1961 till 1992. Its large installations and radar domes were operated 24h a day, spying on military and radio communication from East Berlin, Russia and the nations within the Warsaw pact.
After the reunification of Germany there have been several projects and speculations for the site, ranging from a museum to luxury housing, none of which has been brought to completion. During years of vacancy, decay and vandalism, the site has been used for various activities, and currently hosts a number of initiatives. Artists, researchers and squatters are living there and the site attracts large crowds of tourists.The site hosts Field Stations eV, a non-profit organisation, that explores new models for developing architecture and its relationship with the environment at large.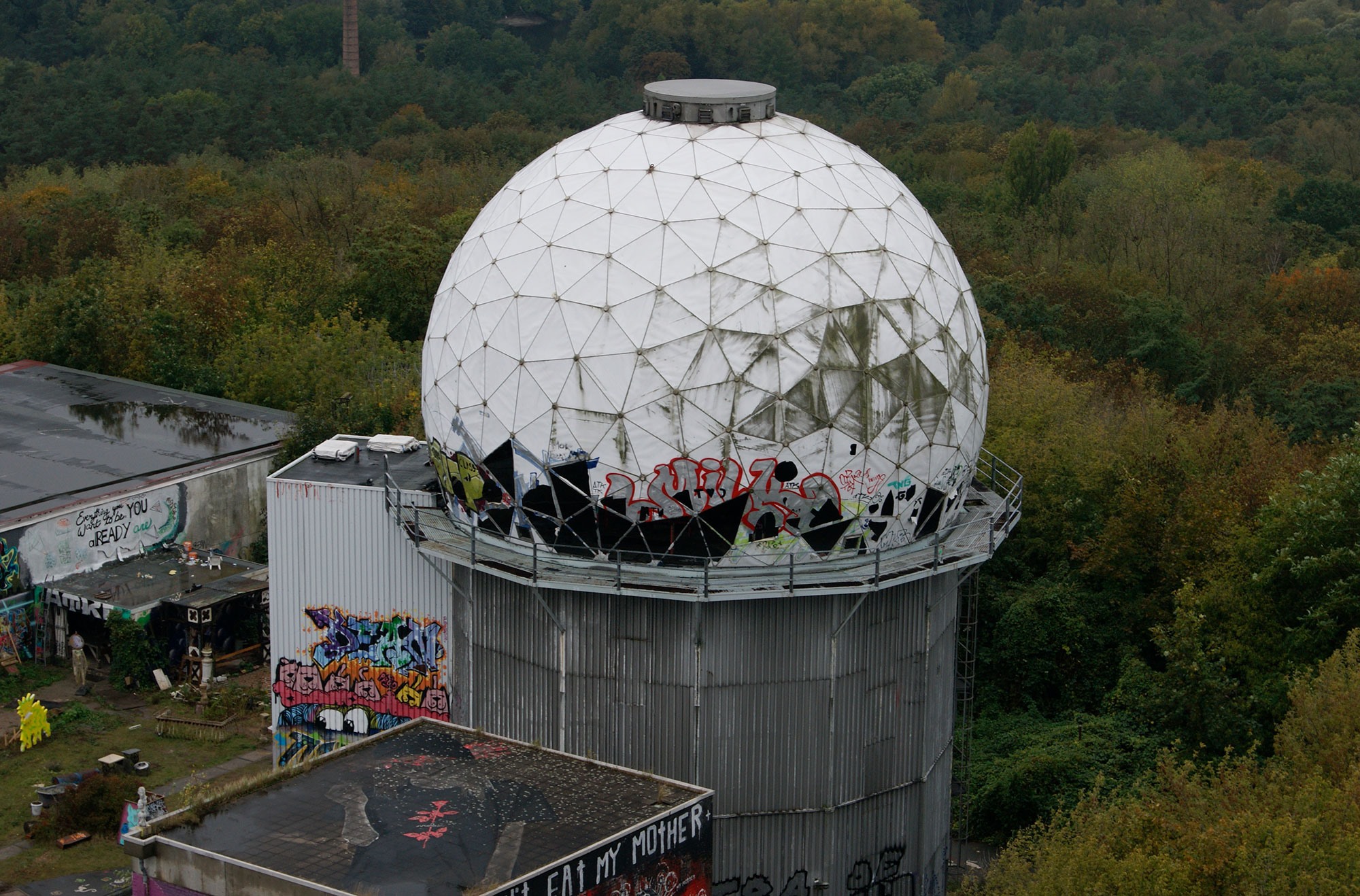 As the buildings on Teufelsberg and its layered history demonstrate, architecture cannot be reduced to just its constellation of material elements and is subject to environmental, technological and cultural changes. The built reality is only one layer that makes up the environments we inhabit, it is embedded within other material and immaterial layers, and it contributes to larger economic, material, environmental, informational and infrastructural systems. Within the Field Station Studio, we see the expanded field, this constantly changing, layered and hybrid environment as the context that architecture operates in and actively engages with.
The question of how architecture operates and relates to the expanded field is central to the studio. Three closely related evolutions give this question an immediate urgency:
(1)The evidence of the impact of humans on our planet is so extensive, that scientists are proposing the dawn of the Anthropocene as a new geological epoch. While architecture and urbanisation are major contributors to this impact, our way of thinking about and practicing architecture is modelled on a difference between nature and culture which can no longer be maintained.
(2) Our environment is increasingly saturated by and mediated through technologies. Through sensors, mobile technology, big data, online platforms, augmented reality, ... technology is interwoven into the built fabric of our cities. Our culture is increasingly mediated through digital media: online blogs and social media providing a nonstop stream of information. Although this added layer of technologies, or technosphere, has as a drastic spatial and material impact, architecture seems to lack the tools of engaging with these spatial agencies.
(3) Internet, social media, mobile technologies offer access to information everywhere and have the potential to change the way we act as a collective.This can be seen in informal actions like crowdfunding, crowdsourcing, mass customisation. Architecture can learn from these actions.
As a consequence of these points, the dichotomies that are at the basis of architecture as a discipline are collapsing: there is no clear distinction anymore between nature and culture, between environment and building, between interior and exterior, between digital and material, between mediated and bodily experience. Within Field Station Studio, we see this layered, hybrid and technologically saturated environment as context, content and medium for architecture. These issues have the potential to rethink, expand and hack our modes of operation as architects and the way we design embedded in this expanded field.
PARTICIPATING STUDENTS
Aaron Derie, Nicolas De Paepe, Ramona Georgieva, Kevin Saey, Vincent Nulens, Younes Ben Amar, Lieselot Lust, Marine Boey, Tom Schoonjans, Maarten De Smet, Eliza De Meyer, Tsvetan Karamochev, Shervin Sheikh Rezaei, Stijn Colon, Marie Malingreau
PART I:FIELD GUIDES
Starting from a study trip to Field Station Berlin and reading, presenting and discussing examples and theoretical texts, the aim of the first part was to collectively identify, map and categorise potential layers that make up the expanded field for architecture. In groups of three, students developed a concept for a Field Station. Following questions could help in driving this process: Which layer(s) of the expanded field does the Field Station relate to? How does it relate to other Field Stations? How does this field affect the architectural articulation of the station(s)? Which architectural parameters are influencing and defining the relationship between station and field? How does the field station relate to time? Which architectural strategies are employed?
The design is iteratively developed and results in contextless proposals, in the form of a series of prototypes for (a) Field Station(s).The assignment leads to catalogue of prototypes. Their format, scale, the media used and nature of the output, will depend on the content of the project.
Open Source Architecture. Communicating Architecture. A Speculative Future without Work. Field Station Google Earth: de Nieuwe Wereld.