Architecture & Automation
For more than a century automation has been radically impacting different parts of society, from agriculture, manufacturing, shipping and transportation, to governance and warfare. Initially automation was mainly aimed at increasing the efficiency of and avoiding the associated with manual labour. Through developments in computation, machine learning and artificial intelligence, today automation is also affecting intellectual labour and even creative industries and design. Whereas earlier automation was usually contained to specific sites (factories, farms, logistic facilities…), through the spread of mobile devices, ubiquitous computing and data logging and processing, automation is increasingly mediating aspects of our daily lives (working, living, entertainment…) from chatbots, virtual assistants, suggestion algorithms to personalised advertisements.
Compared to other industries, architecture, engineering and construction, is one of the least automated industries. Architectural culture seems to be quite resistant against ideas of automation undermining the role of the architect and his authorship over design. Architectural design is hard to automate due to the difficulties of quantifying architectural design processes, dealing with wicked problems, that require negotiation and innovation. Material extraction and processing, the production of building components through prefabrication, are more easily automated, building construction often remains, a bespoke and one-off process that is context and site-specific.
However, the increasing computational power, the availability of vast amounts of data, development of artificial intelligence, combined with resource scarcity, increasing construction costs and housing scarcity, provide an urgency to develop the potential of architectural automation.
The fourth iteration of Fieldstation studio will explore automation as a specific driving force within the technosphere, its impact on our relation with our environment in the anthropocene, and its potential to rethink the workflows, practices and culture of architecture. We will look into automation as a content, context and tool for architecture through fieldtrips, research and hands-on design exercises.
PARTICIPATING STUDENTS
Ahmad Ramezanzadeh, Anton De Meyer, Arne Milissen, Benediktas Kuoras, Bengusu Cebeci, Brecht Beddeleem, Cagatay Erbas, Catherine Caglan, Didier El-Bacha, Dominik Rzeszutek, Ferre Vander Elst, Franziska Faude, Hristo Hristov, Isinsu Tazici, Jana De Timmerman, Nand Van Hooreweder, Sander Wallays, Stephann Xu, Tanya Weronika Isinsu, Tine De Fleurquin, Tung Nguyen, Vaishali Lahkar, Vincent Adayemo
PART I:FIELD GUIDES
Media Ecology [Download].
New Eyes [Download].
Fictional Automation [Download].
Automated City [Download].
PART II:SELECTED WORKS
COMPRESSED CITY - CATHERINE CAGLAN
In the field guide fictional/imaginative automation we explored the different realities we experience thanks to automation. The most present form of automation in our daily lives is the existence of interfaces. We experience a fragmented reality through constantly switching from the digital world to the physical world, most of the time unconsciously.
The present is experienced more online rather than in our physical surroundings. We live in the interface, in a shared intermediate habitat. We curate our digital life as if we were a video producer, deciding which sequences of our life we want to show, in which order and for how long. This constant exchange between subject, image and context creates a new space where they can all interact.
This hybridized environment created by the increasing presence of interfaces within architecture also creates a hybridized subject that inhabits it. Interfaces became naturalized allowing them to evolve beyond the confines of the living room and cinema. Not just means of capturing or recording it surroundings it has entered a symbiotic and participatory relationship with its audience. It takes its own identity, its own form.
This hybridized environment is changing the way we used to organize spaces and cities. Interfaces infiltrated themselves into these physical surroundings without being designed to be present, because most of the time architecture is designed to be experienced physically.
But what will remain to be designed in the practice of architecture if the aim is to design those hybridized environments on purpose and not let them be created by accident or infiltration? What if we reset the city of today? Deleting everything that can be replaced by a digital platform. Reset the city of today and compress it in a tower.
A compressed tower where people would rather spend money on experiences than on objects. Objects are being less and less important in value and size. This results in portable and shrinked objects versus magnified spaces. Spaces waiting to be experienced and snapped. A physical city that enhances the digital life with an infrastructure that maximizes and speeds up users activity by providing shortcuts and omnipresent services.
By deleting all the physical facilities we can replace by digital platforms we remain with 4 categories to be compressed at their essence: S (private spaces: housing, camping, Airbnb…), M (shared spaces: vertical farming, co-working spaces, water and energy production…), L (public spaces: entertainment spaces, staged settings, event halls…), XL (infrastructure: circulation shortcuts, data farms, clickfarms, cryptocurrency mining…). The size of those categories is also fundamental into maximizing the density of the city. With "S" taking the least amount of space by giving 80% to "M" and sharing it with x-amount of inhabitants. Public spaces ("L") provides the most flexible spaces in function and size due to the increasing craving for experiences waiting to be instagrammed. Finally we have an infrastructure ("XL") that glues and keeps everything together and facilitates movement of people, data and currency.
Compressing the city of today to create uncompressed spaces in nature. Using those uncompressed spaces as a detox zone from the overwhelming density and as a temporary escape from the dense and intense reality. All this escape to then go back to the compressed city, to be part of society and fit in.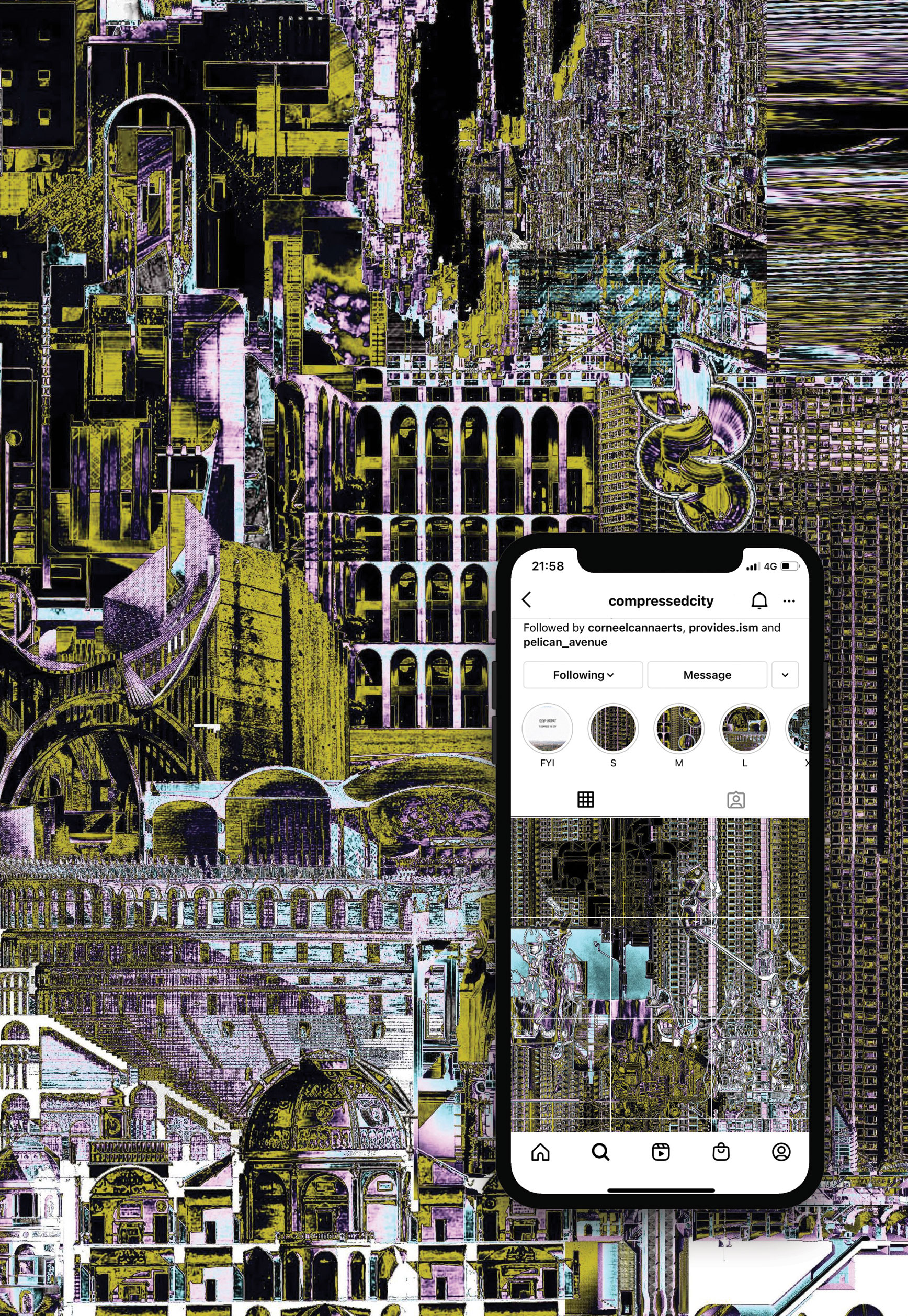 THE CITY OF FLANDERS - SANDER WALLAYS
Flanders has always loved to express itself as a highly technological player on the global market (cfr. Third Industrial Revolution Flanders and Flanders Technology).
1. Due to automation, the gap between rich and poor is getting bigger and bigger. Poor/ unschooled people can't find any jobs anymore because everything is getting automated.
2. On top of that comes the growing conscience of global warming and the loss of natural habitats. Because of global warming, climate refugees start migrating to safer places, such as big parts of Europe and Flanders in particular.
3. Social media also plays a big role in this. Social media works really polarising.
People's Instagram profiles, Facebook profiles etc. are getting more and more important to show the world who they 'really' are. It's even more important than the real life presentation. When people walk on the street, they're anonymous. But on Instagram they can easily get world-famous. People are able to live next to each other without any trouble and there is only hate and fear online.
These socio-economic shifts ask for a different planning in Flanders:
Flanders is one of the most closed-build spaces in Europe. Almost every part of Flanders is taken in by the sprawl. The pieces of nature that still exist, are incapsulated by infrastructure and buildings. That's why we should look at this region differently: the City of Flanders.
The goal of the City of Flanders is to house all people in a proper home and give back space for nature to flourish, by subtracting the sprawl conditions and the negative elements from the landscape. Thanks to new technologies, automation and other transportation this is possible.
The City of Flanders is a spatial investigation in the post-automated Flemish landscape.
It's a celebration of the Flemish landscape as a place for both natural and urban recreation and living. It is a search in strengthening the identity of a landscape and a country, without being afraid of change.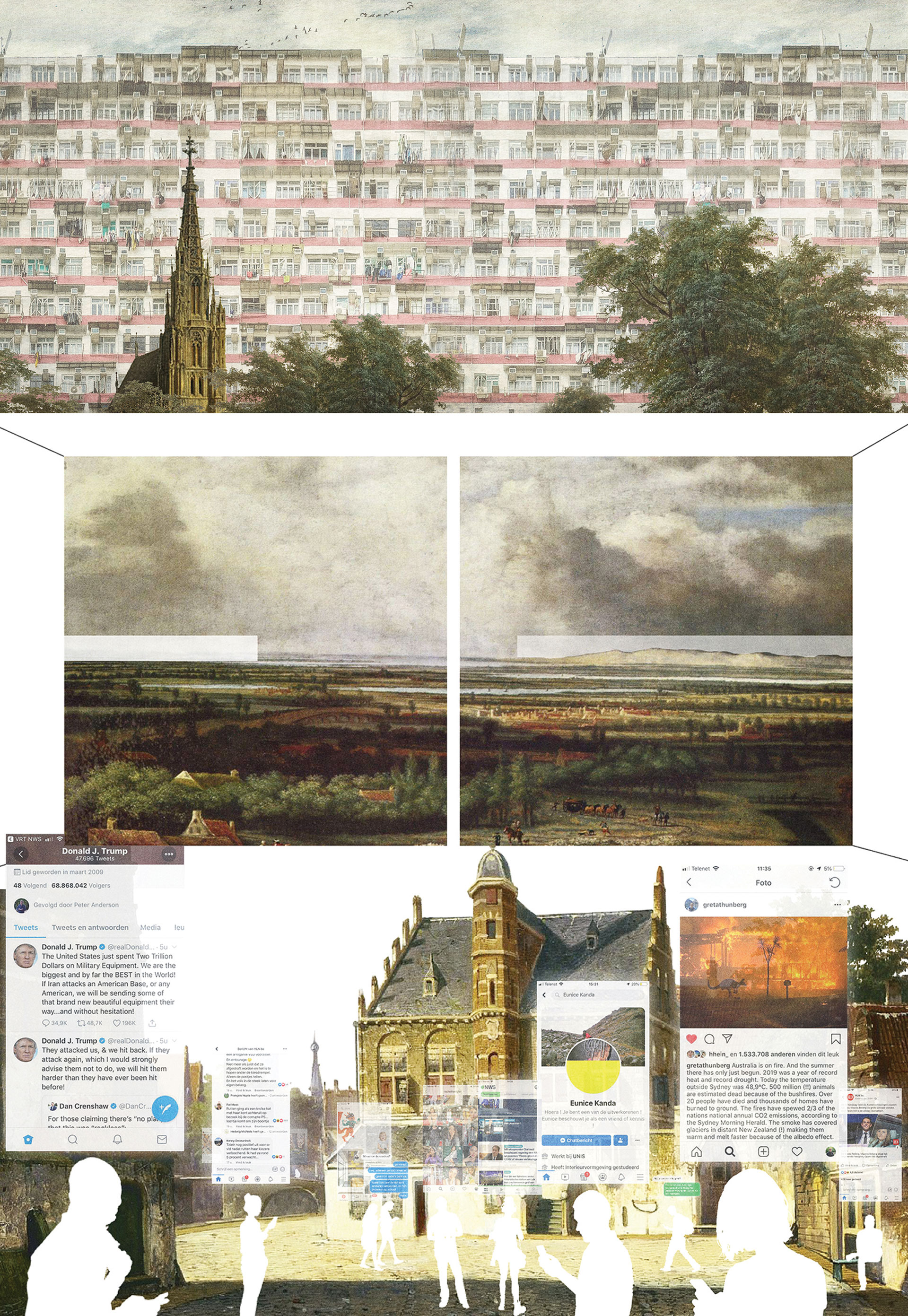 AUTOMATION REHAB - FERRE VANDER ELST & VINCENT ADAYEMO
Automation Rehab aims to safeguard humanity in a highly automated society.
The far-reaching automation and robotization programs life in such a way that it gradually threatens to alienate our human nature. There is not only the influence on societal and functional developments, but also on our social behaviours and our individual experiences. It is an ongoing process that we are not always aware of. And that awareness is what Automation Rehab wants to increase.
Automation Rehab does not position itself against automation. Automation Rehab advocates for our human nature to stay flexible alongside of automation. By in the first place becoming conscious of the effect of automation on us being human.
Through a 7-day program consisting of different experiential modules (capsules), visitors are brought back to some of the fundamentals of our human nature. Sometimes in a confronting way, that is why we call it a rehab. The experiences lived through the capsules, first individually, then in contact with the other and then as part of a community, will re-connect people to themselves and others, and lead towards awareness and deep reflection.
The people behind Automation Rehab live consciously and independently from the automated city. The rehab provides the necessary income to make this project sustainable and for the community self-sufficien
Automation Rehab is built on the remains of the American Theatre. As an American pavilion during world exposition of 1958, this building was the symbol for progress through automation. This building has become the symbol for restoring humanity in an automated world. With as main message to become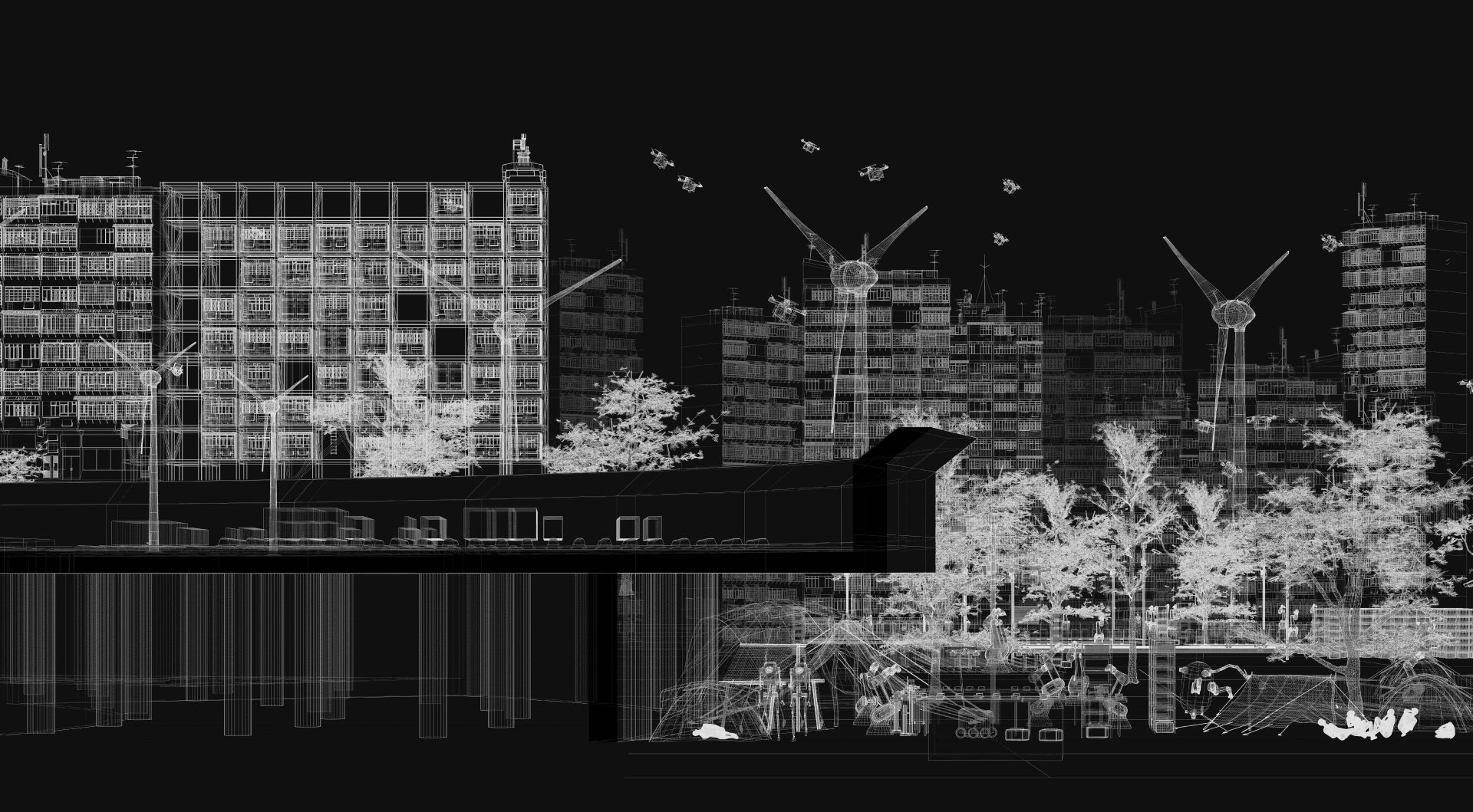 RENTVILLE - ARNE MILISSEN
RENTVILLE IS A HETEROTOPIAN COMMUNITY THAT ENTERS YOU IN THE POSSIBLE FUTURE WHERE EVERYTHING IS OWNED BY THE 1%. EVERYTHING IS 'FOR RENT' NOW. SO WHATEVER YOU DO, YOU WILL NEVER BE BOUND TO IT AND YOU DON'T HAVE TO OWN ANYTHING. AS A MEMBER OF RENTVILLE YOU ARE FREE TO LIVE NEO-NOMADIC AND EXPLORE EVERYTHING THAT LIFE CAN OFFER YOU. BUT THERE STILL ARE GOALS. THE MORE YOU INTERACT AND IMPROVE THE COMMUNITY, THE MORE YOU CAN CLIMB IN SOCIAL STATUS AND GET A LEVEL UP TO GAIN MORE INFLUENCE IN THE COMMUNITY. THIS EARNS YOU MORE RENTCOINS TO BUILD OR ADD NEW SPACES AND UNLOCKS NEW POSSIBILITIES IN THE RENTVILLE COMMUNITY.
THE EXPO SITE IN BRUSSELS IS WHERE THE COMMUNITY STARTS. IN TIME, THE COMMUNITY WILL GROW ALL OVER THE WORLD, MAKING YOU A WORLD CITIZEN AND NOT BOUND TO A COUNTRY. FOR NOW THERE ARE THREE MORE RENTVILLES: ONE IN DUBAI, ONE IN GREENLAND AND ONE IN NEPAL TO EXPLORE.
THE SITE OF THE AMERICAN PAVILION IS THE CORE OF THE SYSTEM. IT'S HERE WHERE THE ROBOTS MAKE AND STORE THE STRUCTURES AND MATERIALS. THE MAIN FRAME OF THE STRUCTURE IS MADE FROM CARBON FIBER BECAUSE OF ITS LIGHTNESS, STRENGTH AND REUSABILITY. THIS ALLOWS FAST BUILD SPEEDS AND EASY EXTENSIONS TO EXISTING BUILDINGS. FROM HERE ITS JUST PLUGGING AND CONNECTING WITH WALLS, FLOORS AND STAIRS ALLOWING THE COMMUNITY TO EVOLVE AND ADAPT AT UNBELIEVABLE SPEEDS. EVERY HOME IS DESIGNED FOR 24 HOUR USE. THE SPEED DEPENDS ON YOUR STAY, WORK AND COMMUNITY TASKS.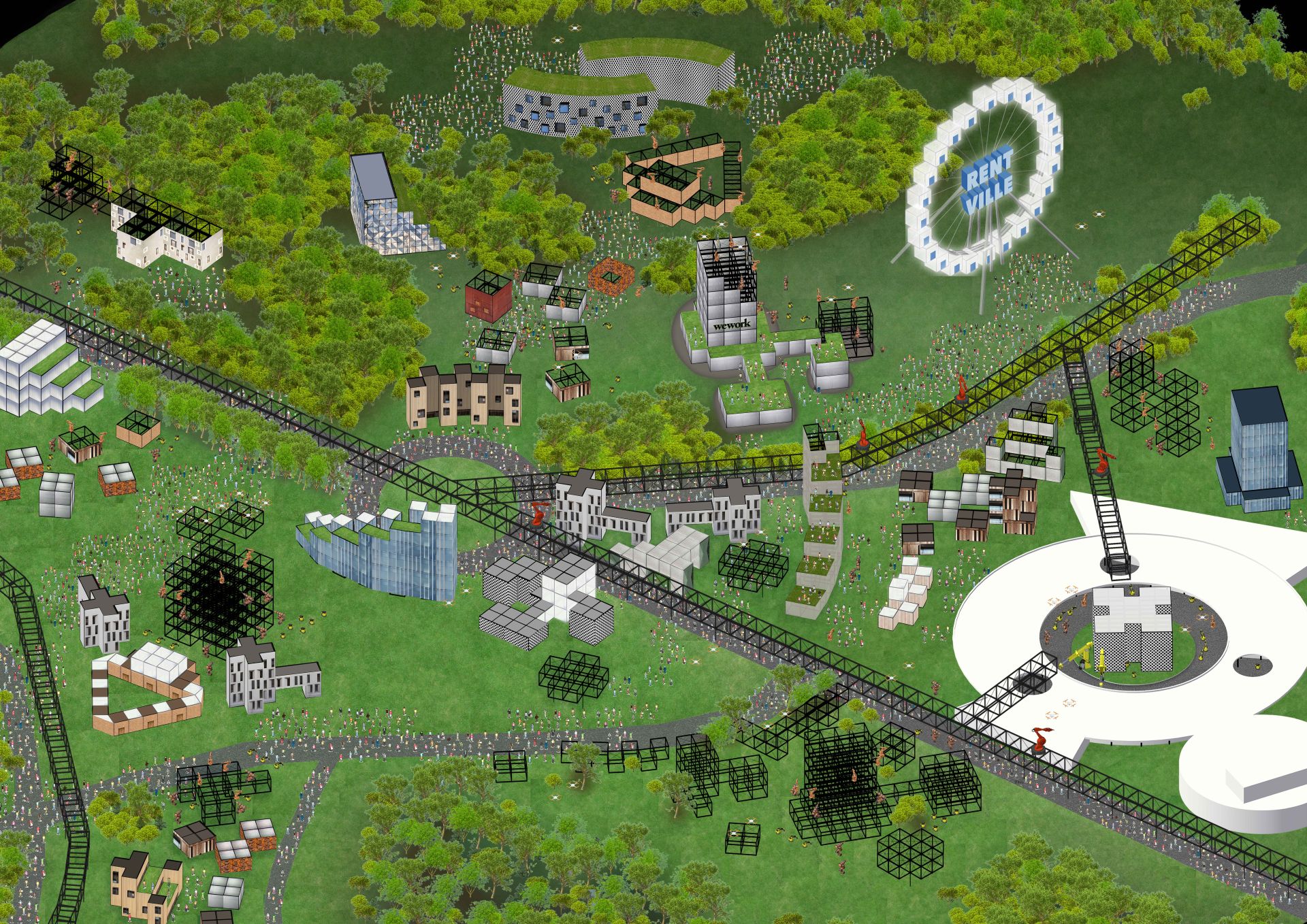 LATE-STAGE AUTOMATION - BENEDIKTUS KUORAS
Automation - a replacement of human function with artificial means or the largest scale "algorithmization" of reality.
Project modernism, has reached its peak, the maximum efficiency can now be reached, irrationality finished forever. It is the last invention of humanity. Every resource is measured, every process is foreseen, every function handled. All the finite information of earth computed by the infinitely powerful computational machines. Evolution is not necessary anymore.
However, stability has its drawbacks. As the time scales don't matter, computers get stuck in infinite loops of sameness repeating or will wait idle for years for new artefact to be solved. It can find all the answers, but paradoxically there are no more questions.
Humans are collected to human inclusion spheres. There the most humane humans are fostered. Separated from machines, never knowing that there's something behind that white wall. Their living is for the machines to have meaning, a collective brain that infuses the supercomputer with the thing that was never achieved - a consciousness.
Each of them is given a personal reality. Their world fits in the sphere, however to them their reality is infinite. White walls are everything they have and there's no other world behind. The procedural environment creates unlimited variety of seamless spaces for living, creating, being.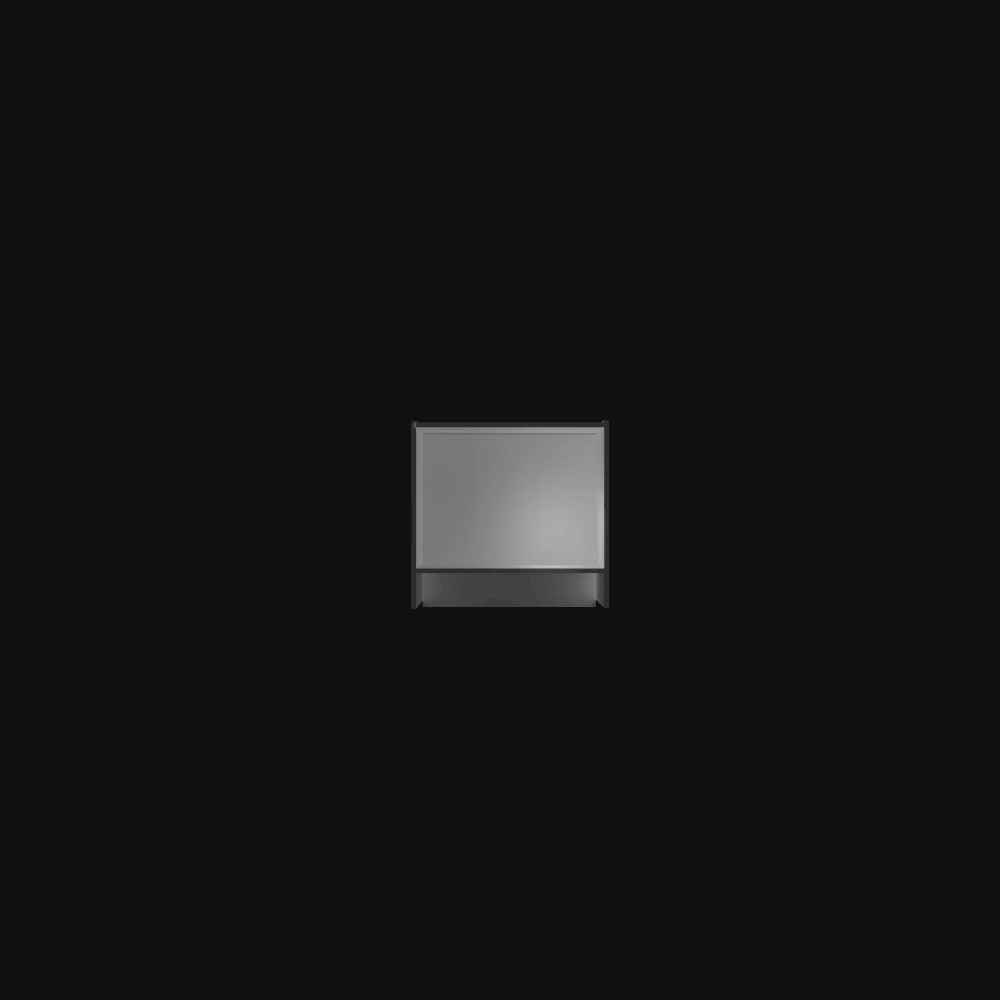 AUTOMATION SANCTUARY - DOMINIK RZESZUTEK
The main idea of the Automation Sanctuary project is an approach to technology as a new religion and "spiritualizing" the relationship between man and machine.
The inspiration for this project is the Expo 58' exhibition in Brussels and the Vatican pavilion, whose main thought was to subordinate technology to man and subordinate man to God. The Automation Sanctuary reinterprets this idea, by putting technology and God on an equal footing and assigning man to them. The sanctuary is not only a religious monument, but a functioning temple where people can learn about automation, experience it, be more aware of its functioning and omnipresence.
The basis for the Sanctuary is the American pavilion at Expo 58, while the form of extension takes inspiration from the so-called Sacred geometry - ancient philosophy and science, common to every cultural and religious circle, according to which the whole essence of the world is contained in specific geometric and mathematical forms. The structure of Sanctuary contains 7 circles of different function and meaning.
1. Circle of GENESIS
2. Circle of NATURE
3. Circle of PROVIDENCE
4. Circle of LIFE AND DEATH
5. Circle of SHEOL
6. Circle of MIRACLE
7. Circle of GOD
Downloads